Published on 08/18/2017 12:32 pm
Get the Best Airtel Broadband Plans in Hyderabad
Hyderabad, the new age Internet city of India is home to the millennial, the new generation that never compromises on the quality of the products and services it uses. It is safe to say the one service they use the most, and are dependent on the most, is their broadband services. What criteria do they follow to get the best broadband connection in Hyderabad? The answer lies in Price, Pace, Professionalism and Plans.
Price - A millennial though young, is price conscious. To them, a broadband plan in Hyderabad is not limited to the monthly payment they will make for their chosen plan. They will also take into account the cost of the modem, installation charges, etc. Companies such as Airtel score over their competitors because they not only offer the modem at no extra cost; they also offer free local and STD class from the broadband-connected landlines. For a millennial, getting free calling from a broadband connection leads to a big YES for the value added services.
Pace - Pace to a millennial refers to the speed at which the ISP in Hyderabad is promising the data. Even today 4 to 16 Mbps speeds are considered quite enough. But for the new generation that lives and thrives on their broadband, they can also choose 40 and 100 Mbps. Since they access data from the point they open their eyes till they are unable to keep them open at night, consistent speed without interruptions matter. It can be said that V-fibre cables will catch the attention of the millennial with speeds that can go up to 100 Mbps. The Vectorization technology enabled broadband offer uninterrupted broadband allowing for education and entertainment needs to be met without interruptions or buffering.
Professionalism - Professionalism is what helps the millennial of Hyderabad achieve success. They expect it in every facet of their life. How can they expect anything less from their ISP provider in Hyderabad. A company with an established national footprint will definitely be backed by superlative customer services which meets the high expectations of seamless user experiences. Getting an engineer visit within stipulated times backed by products and services of the highest quality will affect the decision of which ISP millennial will opt for.
Read Also :- The Future of IT Industries in Hyderabad
Plans - Plans will be scrutinized and analyzed to the minutest details before they are chosen by the millenniums. There are several broadband plans in Hyderabad which include Rs 700 at 16 Mbps for 80 GB data, Rs. 1050 at 40 Mbps for 150 GB data, Rs 1299 at 75 Mbps speed for 200 GB data and Rs 1999 for 300 GB at 100 Mbps. As this section of the Hyderabad population chooses a plan best suited to their data needs, they definitely have several choices. Internet Service Providers cannot take chances on lowering standards at any point and keep updating their offers to meet the growing, changing needs.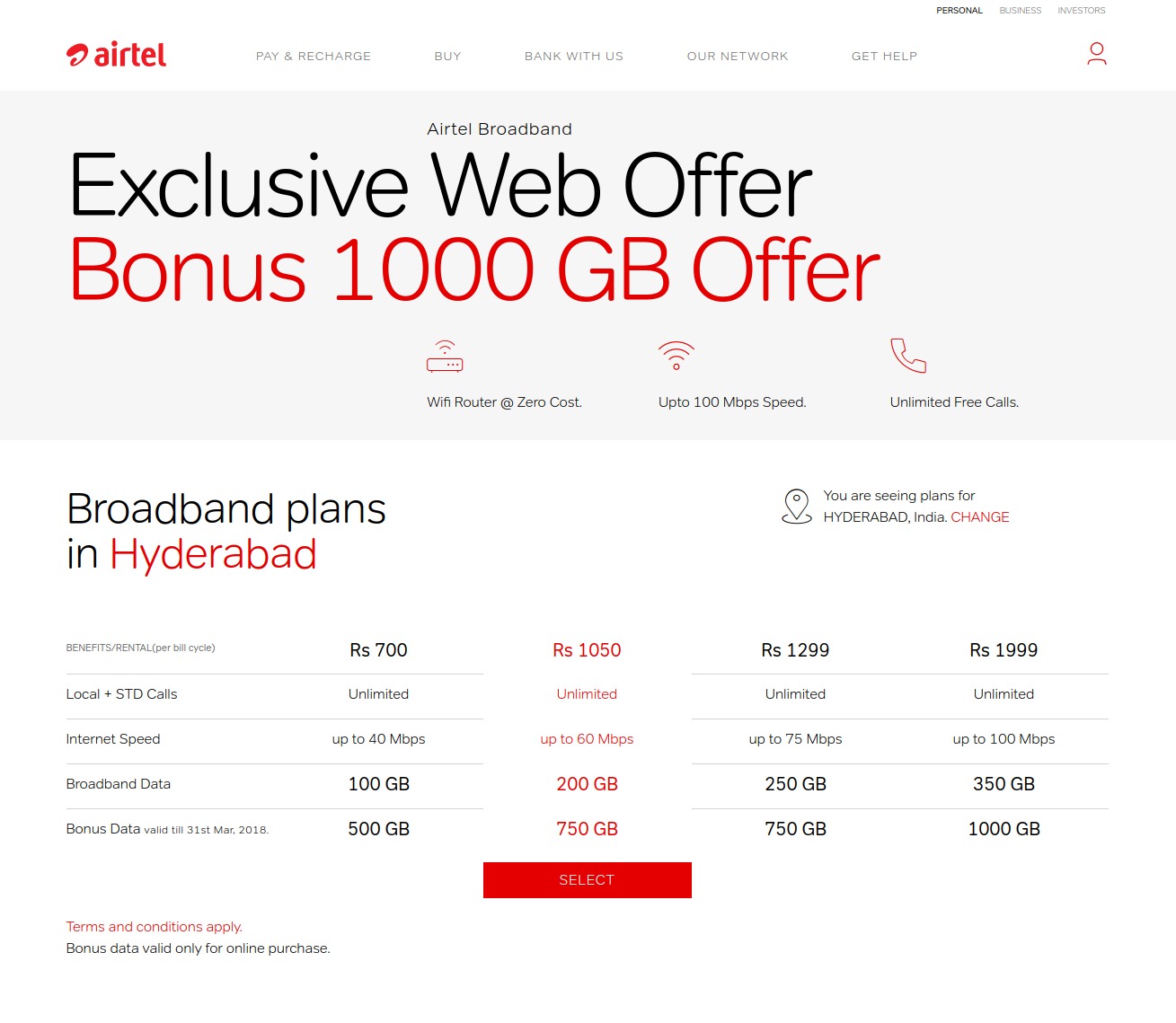 Conclusion
There are several ISP players in Hyderabad but it can be said without ado that Airtel is one player that is pushing all the right buttons to keep the millennial interested. Their plans are priced competitively for the monthly rental, but their value is enhanced by the free domestic calls and a modem at no extra cost. The company is already known for professionalism with regards to its after sales customer service making it a favorite of the millennial.
Read Also :- How Brands Changed Hyderabad Into An IT City